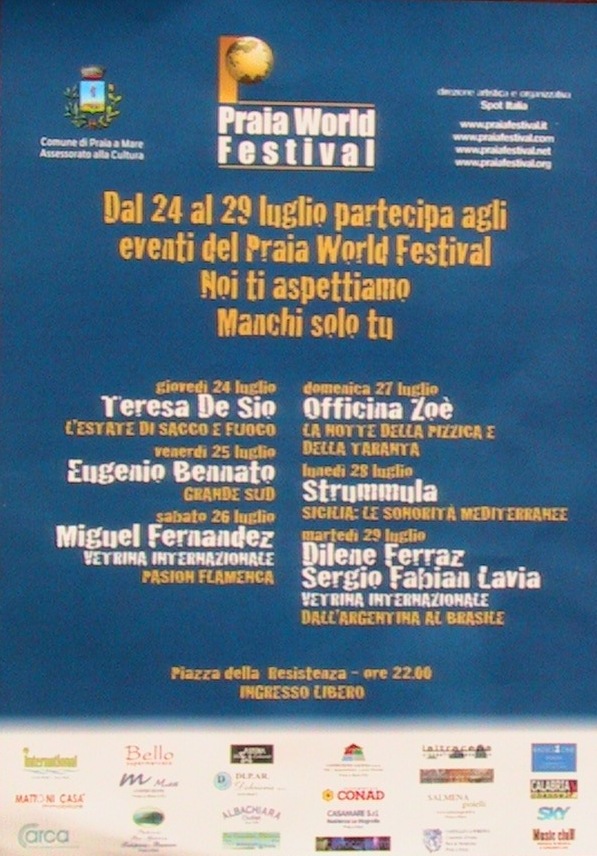 The Praia World Festival (Cosenza)

24 to 29 July 2008
The leading theme of this last edition was nominated Mediterranean Ways and the great part of the events underlined the relationship between sounds and Mediterranean. The Praia World Festival, under the management of Spot Italia within the Assessorato alla Cultura of the Comune di Praia a Mare, has reached this year the 2nd edition and took place as usual at the Piazza della Resistenza. On 2007 the Festival was very much appreciated by press and public reaching up to 8000 presences (in four days). The programm this year reached six concerts with free entrance of great qualiy: the inauguration has been entrusted, Thursday 24 July, to Teresa De Sio with "Sacco e fuoco", a performance with music, instruments , styles and original suggestion. Friday 25 July Eugenio Bennato with "Grande Sud" , a recital of popular motifs of the repertoire of this artist, reviewed with a new rythmical conception. Saturday 26 July Miguel Fernandez with "Pasion Flamenca", the sounds of the modern flamenco guitar together with dance , voice and claps in a unique "dialogue" reached a great genuine success together with a big emotional hit...
(source: www.chronica.it).